Dr. Lex' Site (BETA)
Welcome to the Dr. Lex site, providing a diverse collection of things since 1997, ranging from information and software to slightly absurd types of humour.
ZOMG! What happened to the cool home page?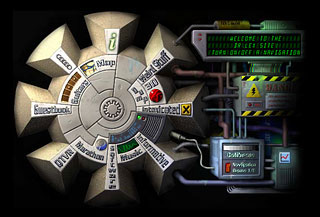 Long ago, the home page was a big animated clickable image. It was cool but impractical to maintain, and it would also be awkward on present-day mobile devices. I still intend to make a worthy future-proof replacement (which is why I labelled this page as 'BETA'), but for now you will have to make do with this spartan design where a list of more down-to-earth text links take you to the topics in which the site is divided.
Other potentially useful pages: the sitemap and the contact page.
Recent updates
New SONAIS cartoon every Tuesday and Friday noon CE(S)T, normally.
Minor update to my punctuation guide.
Garfield Sans will no longer be updated after its run of more than 15 years (explanation on the page itself). My cartoon-making efforts have moved to SONAIS.
3D printable models updated: adjustable grid origin and better efficiency for Customizable Sieve; optional hole for Customizable Screw Cap; updated separate parts version of Flexi Rex with latest model and added dowels; Flexier Rex variant of the Flexi Rex; updated attribution instructions for some models.
Simple Time Calculator now shows ratios between input times, and also: buttons to set current time, with optional live updating.
New article about the decibel scale because I am tired of seeing the same incorrect statements being repeated over and over.
3D printable models added: Customizable simple spiral vase mode boxes, Hex Twist surface vase, Rubber Band Gun remix² 5 shots, and Paradox Illusions - Penrose triangle optimised.
Search within the Dr. Lex Site (top 'results' may be ads):