<Scroll down when ready to face it!>

---
---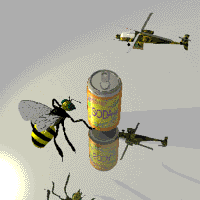 A fully ray-traced animation! Yup, nothing more and nothing less than an Apache helicopter and a bee flying around a rotating soda can. If your computer needs more than 1.2 seconds for one rotation, buy a faster one.
---
---
---
---

(This is some empty space used to separate the images from each other so that your processor doesn't need to process the two animations together and consequently, heats up to such a temperature that it starts to melt spontaneously and sets your house on fire. But have a nice day anyway.

---
---
---
---

Looks neat, no? Watch out, if you keep looking at this for a too long time, your eyeballs will start to do the same as the spheres in this animation, and that isn't healthy for the quality of your sight. Don't tell me I didn't warn you.