The Canary Bird in the Microwave Oven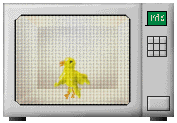 Here you have it! Ever wondered what would happen to your grandma's canary when putting it into a microwave oven? There are two ways to get the answer to this philosophical question: 1. buy one at your local pet store and try it yourself (best results with a minimum 600 Watts oven), or 2. look at this page. I recommend the second method, because the first one can seriously spoil your mom's microwave, and Greenpeace wouldn't appreciate it either.
You can experience this experiment, not only by means of the famous movie above, but also by listening to the sound!!! Yes, a stereo 8-bit, 22 kHz sample is available to everyone who has the guts to listen to it.
I embedded the sound in a HTML-page to make it audible in your browser, but if you can't play it because you have no sound card or Mac, click here to download it to disk so you can play it on another computer.

Ready?
If you're using NetScape, click here. If you're using Internet Explorer, click here.
---