3D Printing with the FlashForge Creator Pro and PrusaSlicer (Slic3r)
This article describes how to use the FlashForge Creator Pro with the open-source PrusaSlicer (based on Slic3r), by means of a configuration bundle I created. If you want to see what kinds of results I get with my FFCP + PrusaSlicer, check out my makes on Thingiverse.
The configuration bundle is meant for the 2016 edition of the Creator Pro and might also work on similar models (even from different brands) that are derived from the Replicator Dual. If your printer has a 4-line text display with physical buttons as in the above photo, and 2 extruders on a single carriage, it is likely compatible with these configurations. If on the other hand it has a touch display or 2 independent extruders (or only 1 extruder), then in all likelihood you will not be able to use this configuration bundle. It might be possible to use the newer FlashForge printers with PrusaSlicer if they accept any of the G-code flavours that PS can generate, but the start/stop/tool code and other configurations will most likely need to be remade from scratch.
Regardless of whether you want to use these configs or not, you may also want to check out my article with general advice about how to improve print quality and reliability.

Intro: why PrusaSlicer?
Around 2011, 3D printing broke through to the mainstream, partially thanks to certain patents expiring. As usual a bit of a hype emerged and less-than-well-informed journalists claimed that traditional stores would disappear and everyone would be downloading products and printing them at home. Of course reality slowly returned and it became clear that 3D printers are not the ultimate solution to everything, yet they are useful for specific applications. I waited for the dust to settle and in 2016, on a whim I decided to buy a 3D printer, assuming that enough know-how should have been accumulated over those five years to produce a good commercial printer. After evaluating different models, I picked the FlashForge Creator Pro due to its competitive price point and good reviews.
To convert a 3D model into a set of instructions the printer understands, a 'slicer' program is needed. As the name implies, it chops up the model into layers and then derives a good path for the extruders to deposit each layer of material. The first problem I was facing back then, was that the printer came with the outdated ReplicatorG program and I wanted to use a better slicer. I didn't like the cost and closed nature of Simplify3D, therefore I looked for an open source alternative. None of the options at that time had good support for the FFCP though. Slic3r looked promising because it was actively developed and had many cutting-edge features. Hence I decided to create my own configuration from scratch for it. Later on, Prusa made their own fork of Slic3r which became 'Slic3r PE' and eventually 'PrusaSlicer.' It was even more actively developed, and therefore I switched to PrusaSlicer instead.
The main reasons why I like Slic3r and its PrusaSlicer fork, are that many new 3D printing features are pioneered in them and only later on blatantly mimicked by the competition. PrusaSlicer started out as a fork of Slic3r with some minor changes, but it is quite different now. Although obviously primarily meant to be used with Prusa printers, it is as extensible as the original Slic3r and does not lock the user into a certain printer vendor. It is being actively developed so if you find a bug or have a feature request, you can report it on GitHub and the developers will probably look into it. Or you can even fix it yourself if you have the skills.
There are other guides about setting up Slic3r with the Creator Pro, but I have noticed that many of them are outdated or keep copying the same old configuration bits full of Cargo Cult while lacking certain necessary improvements. This is why I started making my own configuration and post-processing scripts shortly after I had bought my printer, and I have been improving them ever since. I now share all these configs and scripts for everyone to use.
I only support using these configurations with recent releases of PrusaSlicer because it is much more actively developed and contains extra features compared to the regular Slic3r. Because both projects share the same source code base, my configs might also work with Slic3r 1.3.x, but I give no guarantees whatsoever.
Some important reminders
Keep in mind that the filament presets in my config bundle are tweaked for specific filaments, all-metal hot-ends, a glass printing bed, and my personal preferences. Some temperatures are too high for an unmodified Creator Pro! As a rule of thumb, you should not exceed 240°C on the standard extruders. To print at higher temperatures for extended periods, an all-metal upgrade is a must.
These configurations will move the extruders along a line at the front edge of the platform. If you use a glass plate, ensure the nozzles will not knock any mounting clips off the front corners during the start procedure. Mount the clips at the sides, about 10 mm from the front edge. Or better: use side-mounted clamps (like these) that do not stick out above the plate. If the glass plate is wider than the platform, you may have to tweak the start G-code to ensure the 'chop' works.
Although this config bundle may work for you out-of-the-box, it should be considered a starting point only. You must adjust the settings according to your setup and possibly your specific prints. I rarely use the profiles as-is, I usually tweak things per print. Useful information can be found in the Prusa knowledge base, and also the Slic3r manual. A concise how-to can be found below.
Download the required parts
You need a set of programs and files to make PrusaSlicer work with the FFCP.
PrusaSlicer itself, obviously. The best place to download the latest release is from their GitHub page. Avoid downloading alpha releases, they may not work with my configs yet. Beta releases should be OK, but take the latest stable version if you want to avoid any issues.
GPX: PrusaSlicer can only produce text-based GCode files, but the FFCP only understands the binary X3G file format. You need GPX to do the translation. There are multiple ways to install it, one is to download it from GitHub. Do not use the 2.0-alpha version that is distributed with some older Linux distros. I recommend version 2.5 or newer. If you will be using WSL in Windows to run the post-processing script, you must install the Linux version of GPX inside the WSL environment.
In Mac OS X, you can install gpx through Homebrew. You can also use GpxUi which is available for Windows and Linux as well. If you won't be using my make_fcp_x3g.pl script, you will need to manually run gpx. You must invoke it with the argument "-m r1d" to produce correct x3g files for the FFCP.
Perl (optional): you need this to run the make_fcp_x3g.pl post-processing script. Perl is readily available in Linux and Mac OS. In Windows you need to either install it (easiest), or rely on Perl inside a WSL environment. For installing Perl in Windows itself, I recommend Strawberry Perl, although you could also use Cygwin.
ReplicatorG (optional): even though you shouldn't use this as a slicer, it is still useful for changing firmware parameters through the USB interface. You can probably ignore this but if you do need it, make sure to download the Sailfish-compatible version because other versions can cause corrupt settings.
And last but not least, the thing you probably came here for in the first place:
My configs and scripts: they are also maintained and downloadable from GitHub. There are multiple ways to download the files, simplest is to download a ZIP file of the appropriate release, or through the 'Clone or download' button. (If you are familiar with git, you can also clone the repository.)
This is not just on GitHub to offer downloads: it is because this is open source. If you want to contribute to these configs and scripts, feel free to make a pull request.
Installing or upgrading all the parts
Follow the instructions on the GitHub project page. When you have reached the end of the instructions, come back to this page for info on how to use what you will have installed.
As mentioned above, if you have not upgraded your extruders to all-metal, you should go through the filament presets after importing them, and limit extrusion temperatures to 240°C.
A description of what is in the repository:
Main post-processing script
The make_fcp_x3g.pl script can do several things, but its two most essential functions are:
Automatically invoking GPX to turn your G-code file into an X3G file the printer can understand. If you wish, you can skip this automatic invocation of GPX and do it yourself or via another program (for instance the GPX plugin in OctoPrint).
Applying an essential workaround for an annoying issue in both Slic3r (#4003) and PrusaSlicer (#2210). You cannot skip this workaround. Without it, when you're using the left extruder profile and your filament has a different second layer temperature, the right extruder will start heating after the first layer and this will probably ruin the print. If you are not going to use one of my post-processing scripts, you need to somehow ensure this workaround is applied in another way.
Next to this, the make_fcp_x3g.pl script can also invoke other post-processing scripts and can adapt end G-code to allow printing objects taller than the theoretical 150 mm limit (see the hints article for more information). It is not mandatory to use this script, but I highly recommend it. If you don't want to use the script and run into problems when doing things your own way, it will be much harder for me to help you out.
Config bundle
It comes in two variants: most likely you need the regular one. You only need the 'MVF' one if you have installed the MightyVariableFan system.
It contains the start and end G-code and sensible presets for various materials and print qualities. You need to modify the .ini file to set the post-processing script path (even if you're not going to use a script). Follow the instructions on GitHub. When done, you can load the .ini file using 'Load Config Bundle' in PrusaSlicer's File menu.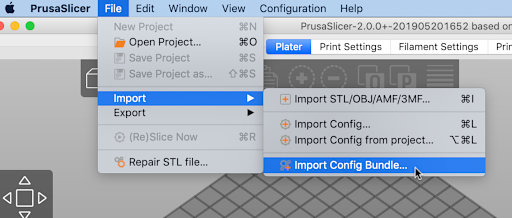 G-code snippets
These are included in the main config bundle, it's just easier to track changes in separate files. In the unlikely case that changes in these files were not yet included in the bundles, you can still update the snippets separately if you really want to.
The repository also contains another post-processing script that may help improve print quality. This script, as well as my other post-processing scripts available elsewhere like the one for dualstrusion, can be invoked by the main make_fcp_x3g.pl script. If you cannot use that script but still want to use the other scripts, you will somehow have to run the other scripts manually.
Using PrusaSlicer
I will not give a full manual for PrusaSlicer here, you should be able to find good manuals online. I will give some remarks about using it with the configs I provide above.
Before trying to actually print something, you should first do a 'smoke test' to test whether everything you installed works: load a simple model and hit the 'Slice now' button, then 'Export G-code'. If everything is set up correctly and you have set up the post-processing script, you should find an .x3g file next to the exported .gcode file. If something went wrong, information may be found in a 'WARN' or 'FAIL' file if present. The README of the GitHub repository contains some troubleshooting hints.
Next, repeat this test but with the "FFCP Single Material L" printer profile selected. If it worked for 'R' but this produces no output, you are probably using the simplified BAT file and have either forgotten to install Perl, or misconfigured its path. Go through those instructions again to fix this.
Workflow