The MQ668 also has a stupid tang buckle and it is impossible to replace the custom band because it is an essential part of the whole construction. Luckily, so-called deployment clasps exist: foldable clasps that can be fitted to an existing watch band. It was difficult to find one for the 26mm width of the band, but I found one at Watch Band Center. I fixed the movable 'ring' to the strap using needles to make everything snug.
Loose USB port cover
This is a rather easy fix: find two very thin pieces of rubber (e.g. cut a bicycle inner tube) and glue them to the little protruding part of the port cover.
Browser user-agent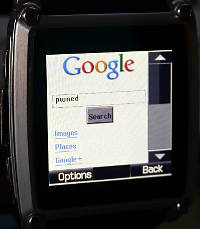 I explained this issue in detail on the S9110 review page. In a nutshell: by making the phone identify itself as a well-known model with a similar screen size and memory capabilities, many websites (most importantly, Google) will reformat their pages to fit on the tiny screen and not choke the browser. This makes internet quite usable, although various bugs will still break some websites. On the S9110 it was easy to make the browser pretend to be a SonyEriccson W700i or K800i (once the Engineer mode code was known). The MQ668 has no option to change the user-agent however. The only way is to hack the string in the firmware itself, not something for the faint of heart. I used this HTTP_USER_AGENT string:
"SonyEricssonK700i/R2AG SEMC-Browser/4.0.3 Profile/MIDP-1.0 MIDP-2.0 Configuration/CLDC-1.1".
For sports I also set the correct X_HTTP_WAP_PROFILE header although almost no website honours it:
"http://wap.sonyericsson.com/UAprof/K700iR201.xml".
WAP bookmarks
This is a relatively easy fix once you know how to mount the hidden FAT partition as explained on the hacking webpage. The bookmarks are simple files stored in the folder '@vbookmarks'.
Take a look at this photo: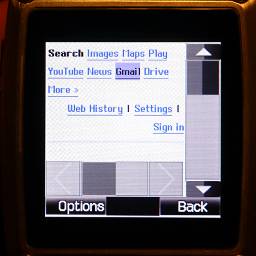 Would you dare sell a device that handles scrolling this way? Massive scroll bars that reduce the available viewport even further in case a page is too large? A good 33% of the viewing area is wasted when the two bars are visible. I hope the person who designed this always wears a paper bag over his head, because he should be too ashamed to show his face. But wait, it can get worse. This was how it looked on the first TW810 I tried:
The scroll bars are fancier, and bigger. They waste a full 50% of screen real estate. How could anyone even look at this and not think it is hideous and preposterous? The person responsible should wear a plastic bag instead — without breathing holes obviously. Even despite their huge size those scroll bars are not very easy to use. Swiping would have been easier and not waste any of the already scarce pixels on such a small display!
There is no tractable way to make the bars smaller, but there is a way to avoid the horizontal scroll bar on Google's WAP pages. I will save you the details because I realise I am the only person crazy enough to do this hack. Everyone else will use Opera Mini instead of the crappy (albeit much faster booting) built-in browser. The hack is explained on my MTK phone hacking page for those interested. It involves tweaking the browser's built-in CSS defaults, which must be done in the binary lump of firmware. Yes, the browser does support CSS in a pretty decent manner, one of its only redeeming qualities.
Battery indicator
The battery levels are editable in the Engineering menu, accessible on this phone through the code *#503#. The strange behaviour of the indicator was because two values were swapped in the look-up table. Even after fixing this, the indicator was still not representative for the remaining capacity. To improve it, I steadily drained the battery while measuring the voltage. The resulting discharge curve allowed me to configure the indicator levels such that they give a good idea of remaining time. One caveat is that although the indicator has 6 bars, the level with 3 bars does not exist, so I accounted for this.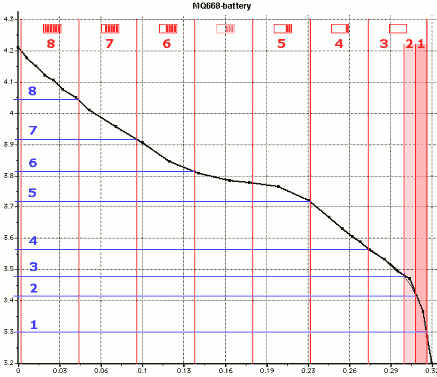 Connector pin-out
Just for reference, this is the pinout for this particular phone. The plug shape is the same 12-pin connector as many other 'China phones' like the i9. Mind that thanks to the whims of the Chinese manufacturers, it is entirely possible that the pinout will be different on your particular MQ668 even if it looks identical to the one in my photos.
Pin 1: USB 5V
Pin 2: GND
Pin 3: ?
Pin 4: one of the headset pins
Pins 5-6: ?
Pin 7: USB D+ (green wire)
Pin 8: USB D- (white wire)
Pin 9: serial Tx (signal coming out of phone)
Pin 10: serial Rx (signal going into phone)
Pins 11-12: ?
What to Expect When Trying to Buy a Watch Phone Anno 2013
Either the market for watch phones has in the past few years severely degraded to a cesspool of sellers trying to rip off customers, or I simply had a lot of luck with the first two models I bought. I will save you the fine details but still give an idea of my experience in obtaining this MQ668.
In a nutshell, I first tried two copies of the 'TW810' model. I specifically ordered from European sellers in the hopes that they would do at least a little quality control on what they resell, and also that it would be easier to get my money back if things went wrong. Not really. First of all, both sellers did not really know what they were selling. Questions about the features of the phones remained largely unanswered, so I had to assume the lists of specifications were correct. They were not.
The first model had hardware defects in its touchscreen and bluetooth. The refund went OK. The second model did not have the features advertised on its eBay page, and like the first one, people at the other side of the line heard my voice through a loud buzzing noise. For some reason the seller seemed to be pissed off when I sent the thing back following eBay's protocols to the letter, and it took months before he finally refunded my money. Hey buddy, if you do not like eBay's way of working then do not sell on it, mmkay?
Eventually I went back to the same source as where I bought my first two watch phones: directly in Hong Kong or China. This went incredibly smooth and not only did this seller actually know what he was selling, he even did the effort to customise the product to my demands. The only disadvantage is that I had to pay considerable additional import taxes. There is one thing to be said, I have a solid impression that Chinese merchants are much more honest and take pride in providing a good shopping experience. Is anyone wondering why their economy is booming? I do not. Now if only they would learn how to properly design stuff…
The Bottom Line
The MQ668 is a perfect illustration of the current state of watch phones: yet another variation on a stagnant more than five-year-old platform that is completely closed and very difficult to modify. The product is full of horrible bugs and dubious design decisions, and has some essential features removed to honour my empirical law of preservation of suckiness. The MQ668 is the third watch phone based on the TW810-style platform I tried. Despite the fact that all three had different hardware, they had similar problems. The most obvious was that all had the same horrible buzzing sound during calls, making these phones nearly unusable to the average consumer who does not want to do the crazy hack I did to fix this problem. This makes me believe that nearly all current Chinese watch phone models have this problem.
Although the phone is quite usable now that I spent a lot of my sweet time hacking it, in its original state it was nearly unusable. I do not recommend buying it, unless you are an electronics ninja. Moreover, thanks to the fact that multiple Chinese companies could be making variations on this model, there is no telling what you will get, it could be something better or something even worse.
It is a pity because the hardware is pretty decent on itself, and with some better finishing and maybe a metal casing, this could have been a rather nice watch phone. I actually considered buying a truckload of these, applying my fixes, and reselling them. The end product would still not meet my standards however. Therefore I keep waiting until someone builds my ideal watch phone. I hold my hopes up high for the Neptune Pine. If any of you NP guys read this, please do not mess up your design and keep a tight eye on what your undoubtedly Chinese manufacturers will be doing.
I only used the MQ668 for about one year before I moved on to the ZGPAX S5, my first Android-based watch phone. Check out the review. It didn't take long either before I switched from the S5 to the Abardeen F80, which finally scores pretty well on my list of desired features.
If you want to stay up-to-date with the latest watch phone news, check out Joe's Tech Review (unfortunately now defunct, the URL used to be joestechreview.ning.com).
©
2013/05-2013/10 Alexander Thomas