Intoxicated: Info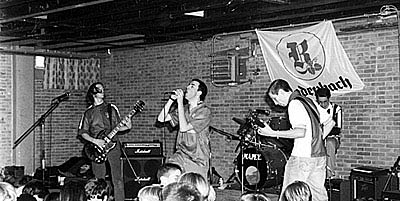 (From the left to the right: Peter Smeets, Pieter Debaene, Tom Peeters and Dorian Igodt)



Who the f**k were Intoxicated?
Intoxicated was a Belgian band of 4 persons: P. Debaene (vocals), P. Smeets (guitar), T. Peeters (Bass) and D. Igodt (drums).
The music they played can be described as a mix of punk, metal and hardcore. Dr. Lex already has remixed some of their songs. Their song "Thanks but no Thanks" is on the "Metal Fun Race" CD. This is the result of a contest, organized by Studio Brussel. (If you happen to be in Leuven (Belgium), go to the "Music Mania" store at the Herbert Hoover Square. In the 'Dustbins' at the middle of the store you might find a rare copy of this CD for a mere BEF 99.)
They had recorded a new demo, which is still available to anyone who could possibly be interested in such piece of history.





Now available: Stick to the core #2
tape + booklet
Including Intoxicated!





Don't forget to visit the home page of PN, a related band!


---
Main


---

Webm@ster: Dr. Lex